How Much Does An App Like Whatsapp Cost?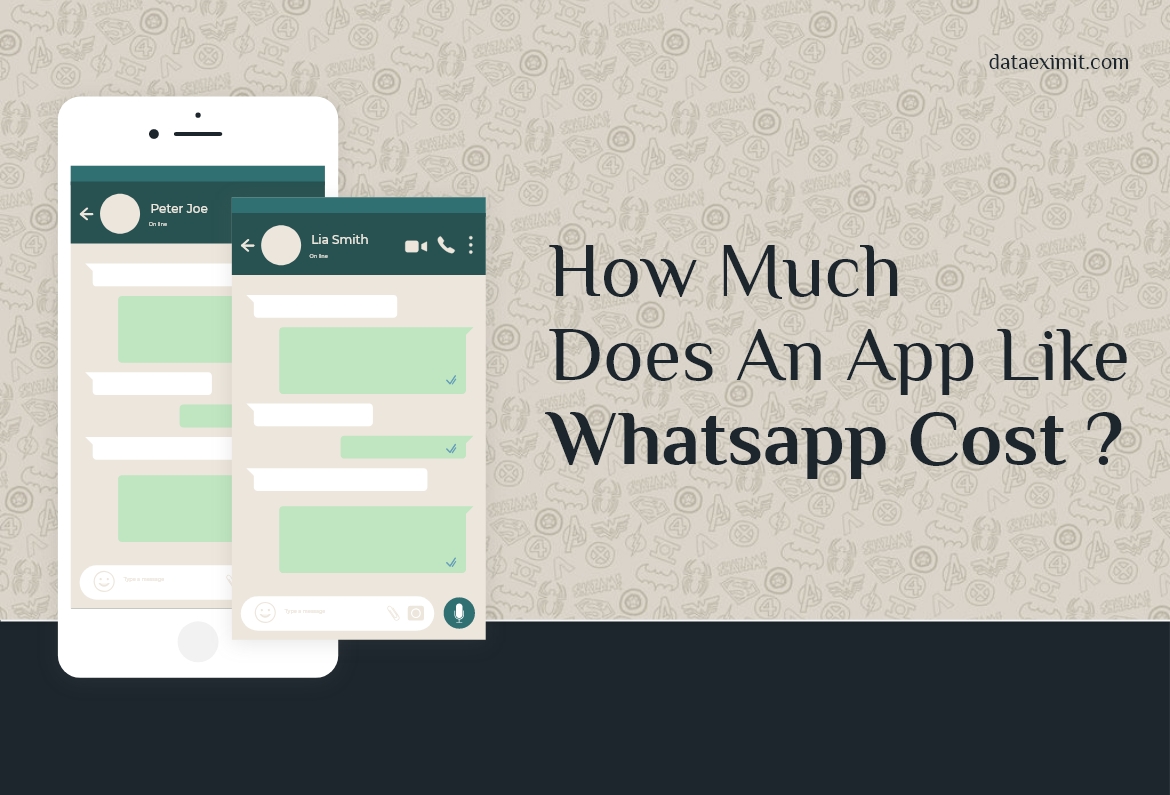 WhatsApp was not the first instant messaging app introduced in 2009 before that starting from 1990 there were many experiments took place by various developers, but the one which lasted and offered greatest benefits was Whatsapp. It was possible because of the features it's 2.0 version offered which are as follows:
| | |
| --- | --- |
| | Message Archive Management |
| | |
| | |
With the technology at hand, many apps came to existence such as WeChat and Weibo which are successful in southeast Asia. Many individuals and a group of people are looking forward to building a chat app for their target market. You can also create one by just hiring the best mobile app development company. Why best? Because the best industry knows the technology used for popular apps and understands the market trends of the mobile application industry. These insights can help you place your mobile app on the digital market more strategically and alluring to your targeted mass. The technology stack used by Whatsapp was as follows:
Language – Erlang

Operating System – FreeBSD

Virtual Machine – BEAM

Servers – Ejabbered, YAWS

Stack – LYME/LYCE

Database – Mnesia

Offline Database – SQLite
With its readily available tech stack, any company can help you develop a chatting app but hiring the best company should be your goal because in the ocean on companies swarming up for only money can cost a fortune. The right mobile app development company provides you with a proposal which is in your best interest and value for your money. Now to understand how a project is developed and how a mobile app development process for a chatting works follow till the end.
App Development Flow By A Mobile App Development Company
UI/UX Designs Development
The first step towards building a chat app is developing a business model which will help you monetize the same. If you are wondering how WhatsApp monetized its activities let us tell you that minting money is the source. If your app gets massive user data, it can easily attract investors. That's why the business model is necessary because this step will help you create designs of your app. Your app designs should be the source of attraction first. 
Your hired mobile app development company provides you with experienced graphic designers who develop the User Interface and User Experience designs based on your business requirements. 
Development Time: 
2. Registration Stage Development
After the blueprint is ready of the mobile app, registration of users step is developed by your app development team. This stage includes getting information related to the identity of the users such as phone number, email address and then sends an authentication code to verify the user after that application retrieves contact lists from users' device and sync to identify others using the same app.
Development Time: 50-55 Hours
3. Real-Time Messaging Service Development
The essential feature of your chatting app is real-time messaging with one-on-one and with multiple individuals at the same time known as group chat. The developers use XMPP (eXtensible Messaging and Presence Protocol) which enables real-time messaging. Moreover, you can include your customized stickers, emojis, and GIFs which are likely to attract more users.
Development Time: 210-220 hours (Both frontend and backend development)
4. Media Sharing Service Development
WhatsApp and other similar apps include this feature as users always want to share photos and videos to their social circle. Even at the initial stage of your chat app, this feature should be added because it is considered a basic one now. The media file is transferred through HTTP server and then send a link to content together with its Base64 encoded thumbnail
Development Time: 40-50 hours
5. Setting Column Development
This development contains profile settings like name and photo to display, privacy settings and account settings. Moreover, it includes managing blocked contacts, delete accounts, changes status, changes numbers, notifications settings, etc. 
Development Time: 110-120 hours
6. Contact Sharing Service Development
This feature enables users to share the contact information from their phone library to any individual or in group chat. The development process of this feature is the same as real-time messaging service development; it uses the XMPP Protocol.
Development Time: 70-80 hours
7. Location Sharing Service Development
Through this feature, WhatsApp enabled live location sharing, any place's location sharing, and current location sharing. You can also apply this feature on your chat app. For Android devices, Google Maps API is used by the developers, and for iOS devices, the Map Kit framework is used. 
Development Time: 20-30 hours
8. Push Notifications
The push notifications feature alerts the user about an incoming message or missed calls. WhatsApp overtime has also enabled replying to a message from notification panel itself. An app developer makes it possible through Google Cloud messaging or Apple push notifications. 
Development Time: 18-20 hours.
9. Voice Call Service Development
Voice calling feature is after you gain a good number of users and willing to go next step for the success of your chatting app. Similar to WhatsApp, PJSIP library is used to implement Voice Over IP (VoIP). VoIP is an open source library written in C programming language. The library uses high-level API by combining the SIP (signaling protocol) with a multimedia framework and NAT traversal functionality.
Development Time: 200-230 hours (Both frontend and backend development)
10. Video Call Service Development
Video calling has also become an essential feature to add to any social media networking application. Even the photo-sharing app like Instagram introduced this feature. You can also add but again at a later stage with the voice call function. Here, the development for Android and iOS devices are different hence development time, and cost may vary.
Development Time: 180-220 hours (Both frontend and backend development)
11. Extensive Quality Checks
The last stage of app development flow is a quality analysis of each feature. These are performed by quality analysts assigned to your project by your hired mobile app development company. Many companies perform quality check s at each stage of development to save time and ensure perfect quality feature of the mobile app. 
The reason to mention development time for each feature is that mobile app development companies charge on hourly basis most of the time. We at Data EximIT also follow the same pattern, but we also provide a project-based price for our clients. Moreover, if you are tight on budget but want a quality application, you can hire app developers in India who charges much lesser than many countries in the world. Typically, for such a project, a company take costs of $20-25 per hour, but it can vary depending upon which company you choose. 
Our Portfolio