How Much Does Cost to Develop An eCommerce App for Both Android & iOS?
The mobile application market is growing exponentially even after growing so much in a few years. The ease availability of everything with a tap on the phone made an international mobile app market while business people were attracted to this market for earning huge funds by providing a value of service or a product to mass. If you are also looking forward to Mobile Application Development, first you need to decide which type of mobile application business you want to jump into.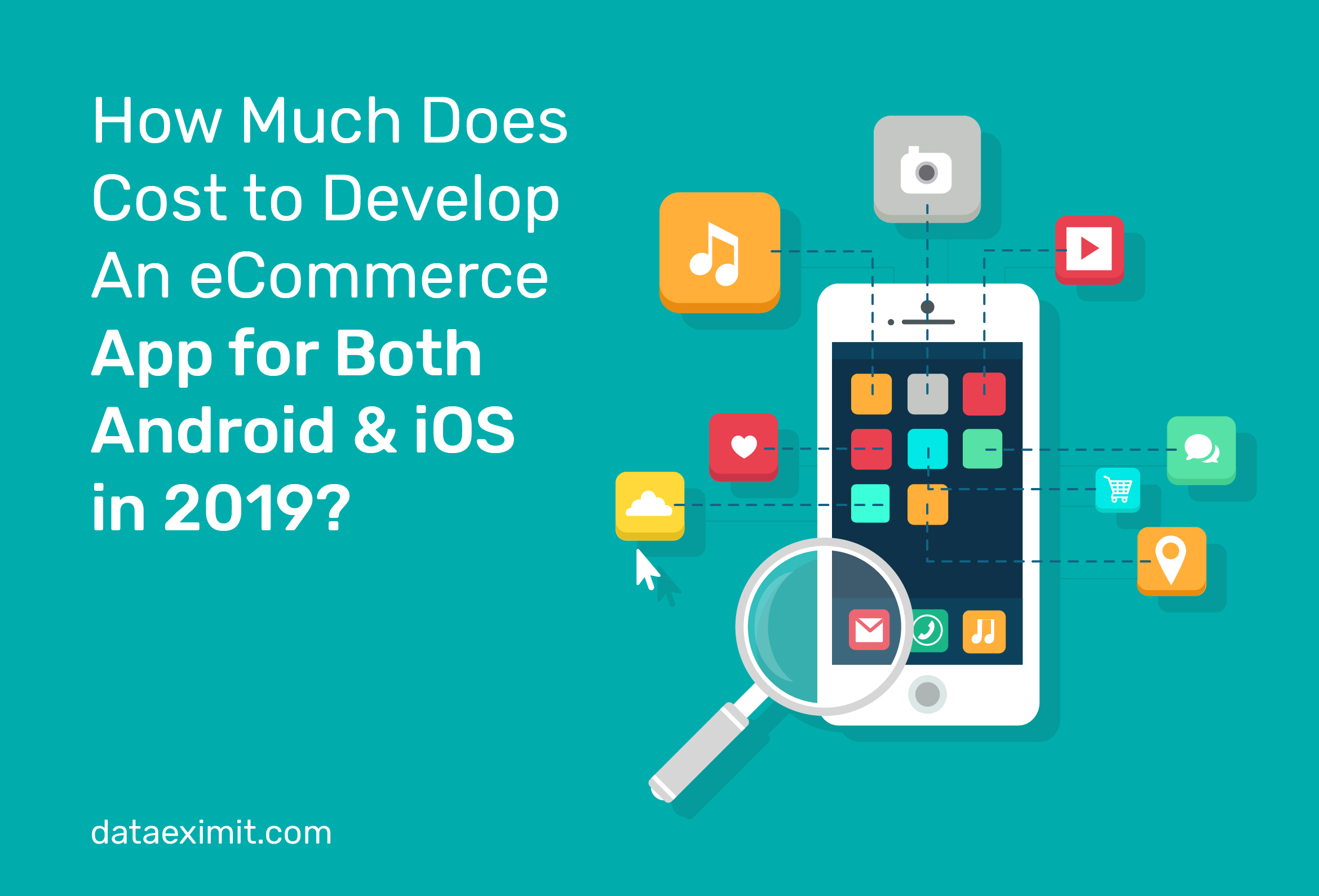 Types Of App Development By A Mobile App Development Company:
Native Apps: The Native apps are built for large businesses such as entertainment apps, educational apps, etc., These app developments aim at excellent user experience, fast, responsive app, and optimization. The native apps enable many feature processing simultaneously. Native apps are supportive of all types of platforms and hence will require a great team of app developers for the development process.
Hybrid Apps: Hybrid Apps are also known as cross-platform mobile applications. These apps if developed correctly with a single code for all platforms are used, can deliver great results for a business. The hybrid apps are mostly known because it is likely to attract a wider audience with low development costs. But it also comes with disadvantages of less optimization, lack of proper user experience designs, and lack of access to APIs. These types of apps are suitable for small to medium-sized apps such as communications apps or magazine apps.
Basic Apps: The basic functionality apps are mostly developed for personal use only. It requires less time for development, and if you hire an app developer on an hourly basis, you can easily afford it. There is no need for extra expenses such as user experience because, with a few taps, the information is displayed.
Database Apps: It is a bit more complicated than the basic app features we just saw. It is a data-driven application that stores operate data from the device's storage directly. A few examples of such kinds of apps are encyclopedias, e-books apps, and language dictionary apps.
Apps Depended On Device Hardware/Firmware: These kinds of apps require the authorization of the device's features such as camera, calendar, contact list, or Alarm clock. For example, an automatic wallpaper-changing app will need to access the photo gallery and watch of the device.
Gaming Apps: There are many categories in games as well when it comes to developing one. A simple game will not require much effort when compared to virtual reality games or a 3D game. An advanced game needs analytics tools, a global rating system, perfect graphics, and user experience, so the cost of development of a gaming app is usually higher than any other app category mentioned above.
After understanding the types of app development, you might be able to recognize where your app idea falls in — the next step for you to be finding the best mobile app development company. Many companies are claiming to be the best in the market, but you should hire the one which provides the best prices with qualitative features in your mobile application.
Cost Determining Factors | Cost to Develop An eCommerce App:
App Development:
The mobile application development includes many processes based on the type of app you wish to build, but few necessary costs which take the most piece can help you determine your mobile app idea's cost of development.
1. Registration Process Development: The first display of your mobile app would be the welcome message and the registration process. This feature handles gathering basic user information and storing it on the back-end of the app.
2. Payment Gateway Integration: The major part of the mobile app if you are planning for an e-commerce app. The payment integration requires dealing with third parties for smooth payments by your app users. Moreover, it requires extensive quality checks so that your users do not lose their money.
3. Social Media Integration: Every app is it small or large needs to have social media integration. This integration provides a connection with the users' profile and gives the ability to share your app content to their network. This feature can increase your audience as well.
4. Other Features Development: Other features for mobile app development depends on the type of app you choose to develop and on your business requirements. For example, a large e-commerce app would require many pages of content to display products or services to their users, filtering options and payment methods options, etc.
The Cost to Develop An eCommerce App here is depended on which feature you will require for the best mobile app in the market.
App Designs:
Mobile app designs are the investment you made to attract your target audience. The graphic designs include user experience and user interface. The company you hire assigns a team of designers for your app project which aims at fulfilling your requirements while aligning with market trends and what attracts your target audience the most. Moreover, your app designers need to know various platform design guidelines to make it more compatible and reachable.
The cost to develop an eCommerce app also depends on your requirements, but the app developers in India typically charge from $3000 to $35000. If you also want a marketing team for your mobile app which provides you with Search Engine Optimization, App Search Optimization, and social media handling, we at Data EximIT also provide an in-house marketing team that assists you in growing your online business through a mobile app. Contact us for more information.
Our Portfolio