Hire App Developer in Dubai | Hourly Rates, Models, And Steps to Hire The Right Developer
Do you want a hire app developer in Dubai, but unable to figure out the right mobile app development company for your app requirements?
Indeed, it is a concern, which bugs the business owners at every space, since not every company available in the market, is necessarily very good at delivering the results you are expecting. It becomes a risky business, when you get to sign the contract, there comes the app developer, who promises the world to you, but is not always what it seems, therefore you should not feel complacent with what is being served at the table.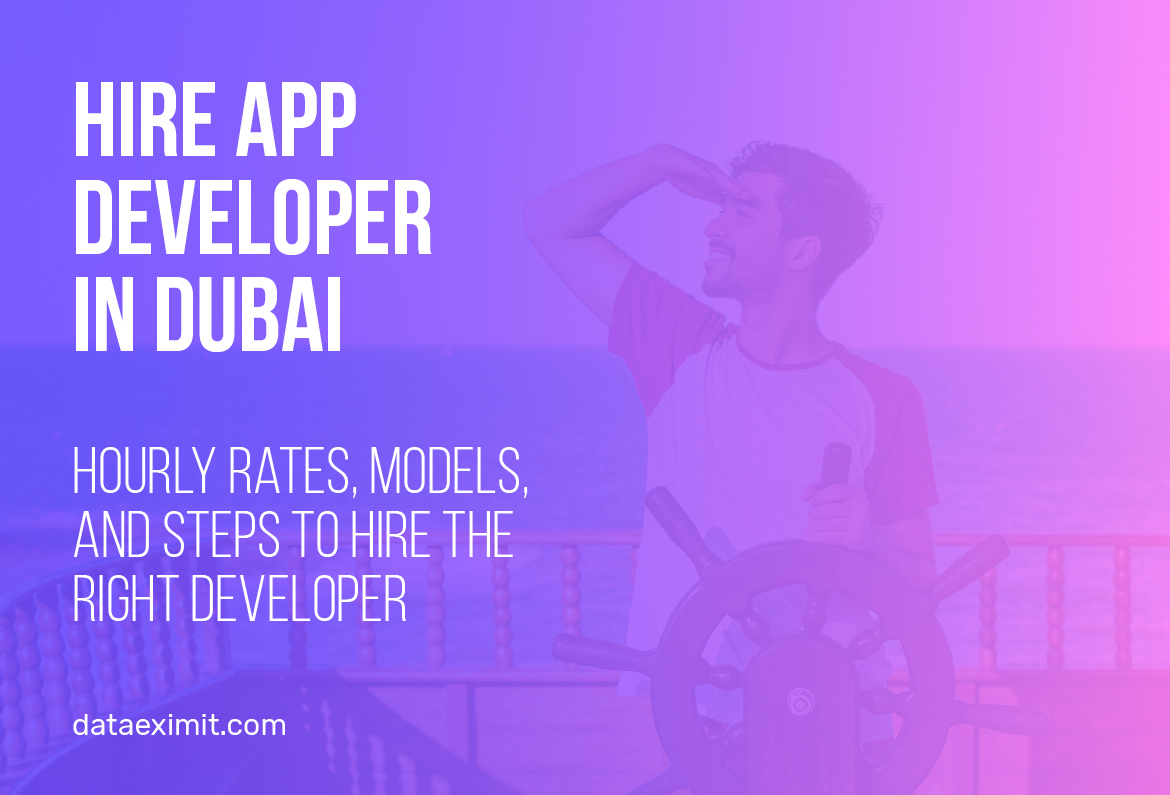 Process of Hiring:
Do you think finding the dedicated mobile developers, is an easy task? Huh, in your dreams. There are a few reasons for that:
1. First rule, skilled software development developers are not actively searching for a job.
2. Hiring an in-house mobile development team, brings great expenditure along with.
3. Interviewing involves many stages, and you cannot be sure of the technical experience even.
Although it becomes an easy job when you land on the popular and different listing websites such as Clutch, AppFutura, CIO reviews to name a few. Here the leading app development companies have their unbiased reviews & ratings, which help you to hire app developer in Dubai with appropriate skills.
Once you have short-listed the companies, then you need to probe your own set of queries before you  take the plunge into mobile app development, such as:
See the apps they've already built
Speak with some of their past clients
Check whether they do agile development?
Check the skill-set of their developers
Understand their approach to achieve user experience and design
What is the post-app launch support ?
What is your mode of updating?
Would you own the code?After these basic questions probed, your next step should be to know the different aspects involved in deciding the app development cost.
To find the right hire app developer in Dubai, in order to outsource your app project you can pick different pricing models, such as:
Part-Time
Full-Time
T&M- which is also popularly known as hourly basis
But this process of hiring is a tricky process. As the app development cost, always bothers the business owners, therefore you should know the couple of factors which can spike the cost. Let's check ahead…
Size Of App Project:
If an app project is small, then it contains less number of features to be implemented within it, which requires less time to get it developed. However, if the app project has quite a number of features, then it would definitely cost a bit more.
The Time Frame Required To Accomplish The App:
If the app project is a short term project, then you must hire the developer on an hourly basis, otherwise, if your app includes many features, then you should consider hiring the developer on either monthly or on project wise basis.
The Type Of Technology To Be Used:
Yes, the type of technology integrated within the app product decides its cost factor in a large way. If you are planning to make your app go enables with AR/VR or Artificial Intelligence, then definitely its cost would be higher.
These are some of the factors which can affect the app development cost to a larger extent, and these only facts and the steps must be considered before picking the right mobile app developer in Dubai for your mobile app, but the app cost itself, does not rule your final decision of selecting an app developer.

REMEMBER, YOUR AIM SHOULD BE A GREAT PRODUCT, NOT THE CHEAPEST PRODUCT

What To Look For In The App Development Company?
App developer must be interested in your business, not just the development. This ensures that you not just get the development but also get the creative input through experience and exposure with similar apps.
Select an app developer, who you can build a relationship with, because the mobile app development is not just one-time activity, rather an app goes through many evolution and cycles, hence your app developer be your trusted partner in development.
Their mode and frequency of communication, speaks volume about their efficiency. If you don't get to each member of the team, deployed on your project, and if your communication is limited to a manager only, then it is alarming.
Long story short, you are required to conduct a comprehensive research before you finally make a node to one right resource and hire mobile app developer in dubai. However, there is a HUGE possibility that you may spend more time in searching for the RIGHT option. Hence, to make the right decision, you can cut the chaos of these aspects further, by narrowing down your research to one of the best mobile app development company in Dubai, none other than Data EximIT.
Why To Choose Data EximIT?
At Data EximIT, we very well comprehend the need of hiring Senior Resources in accomplishing the development task efficiently. Therefore, offer service for your development with trained engineers and highly qualified team, consisting of developers, designers, testers and marketers, which holds the great experience to deliver solution in a timely and efficient manner.
Our working methodologies are very different from our competitors; we sift down the concept and ask every type of question, which can help us in building an immaculate solution. We offer the complete technical support, which initiates from setting up a new project to implement a brand identity around it, through our new technology infrastructure.
You can Hire App Developer in Dubai from Data EximIT, this will help you to enter the whole new world of endless possibilities, which further can help your business to be a customer-friendly approach with a unique mobile app solution. Our hiring models are convenient as per your needs, you can hire full-time/ part-time or hourly basis of $12-$18 Per hour cost.
We help you build the feature-rich and functional mobile applications, which further let your business to beat the competition and scale higher in its respective business domain.
Reach Data Exim IT Solutions at:
sales@dataeximit.com
+91 97-25-044067
Our Portfolio