Native Vs Hybrid: Picking the right mobile app platform for your startup in 2019
When you decide to proceed with the app development process, you get to see, that there is not just one Mobile App Development Company, but a large pool of it and every company refers to you a different platform to build your app.
However, one burning questions, which does not settle down within the app development landscape—whether to build a native app or a hybrid app. As a startup owner, you definitely want to make the best decision for your business, and that's why today we have brought this topic here, which can help you combat the moot point to a larger extent.
Just read further…
What Are Native Apps?
Native apps, get to be written in a programming language, particular within the platform, for which they are being developed for. This includes technologies like Objective-C or Swift for iOS and Java for Android. Of course, native apps hold a better performance meter with rendering and animations being compared to hybrid apps.
What Are Hybrid Apps?
Hybrid apps consist of a web view to help in running the web application inside the native app, which further can communicate with the native device platform and the web view. This allows the web applications to run on a mobile device and get access to the device, such as the camera or GPS features.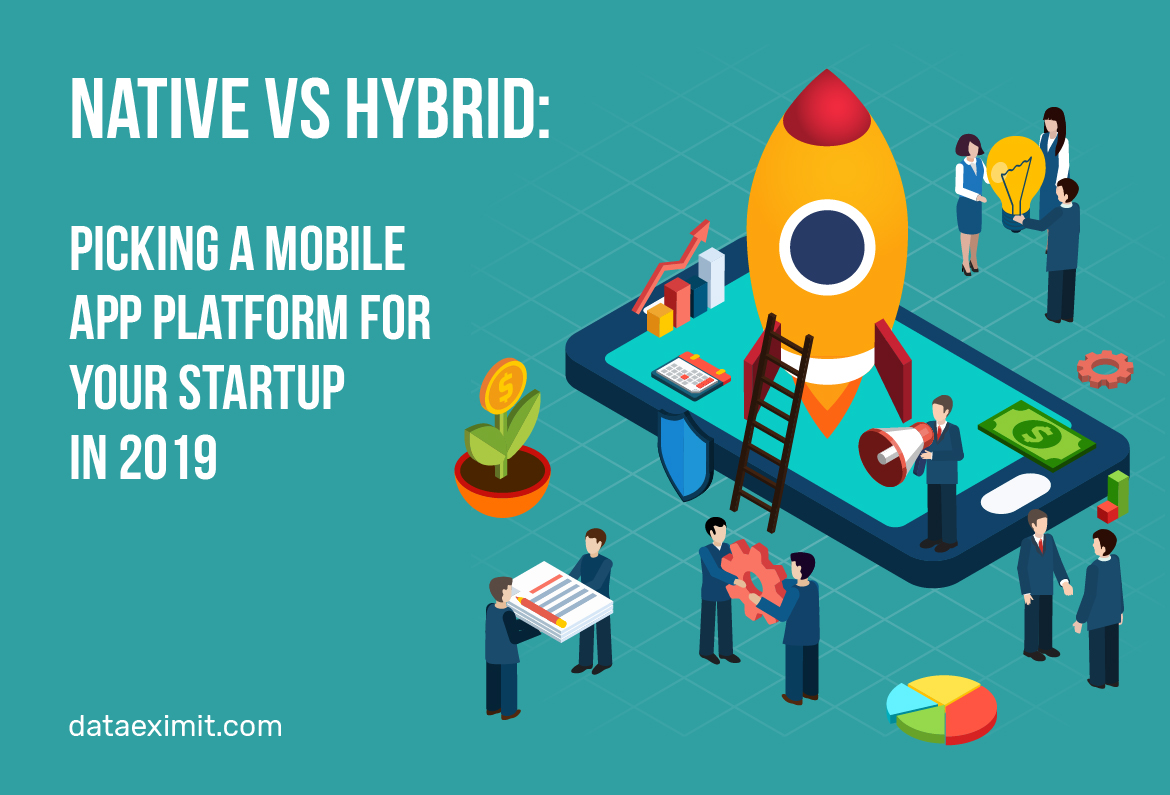 Hybrid apps can be made with the tools which are the third party tools such as Apache Cordova. Once the hybrid app gets, it is compiled, to transform the web application into a native app.
Ionic:
Ionic is the framework, which specifically lets the developers create hybrid mobile apps utilizing web technologies like HTML, CSS, and JavaScript.
A hybrid mobile app which is built with the technologies can be used further for the web. Surprisingly, the hybrid apps are hosted within the native applications and let them access the device's camera, pedometer, and other functionalities. This ensures to cut the need for developing any particular device or operating system.
React Native:
React Native is the framework, which was developed by Facebook for carving out the native-style apps for iOS & Android, within one common language, JavaScript.
The native apps are built especially for React Native platform and can further be used on (iOS, Android). It further allows the proportion of the code to be shared efficiently between platforms and allows developers to create mobile apps which feel less clustered and gives an incredible performance, being compared to hybrid apps.
However, when you look closer, you can analyze that there are clear and distinct advantages and disadvantages held by both hybrid and native platforms, henceforth the section must be dependent on the basis of your specific need.
At Data EximIT, we strongly believe in offering the app solutions depending on the specific need of a business and the users' expectations. As an App Development Company in India, we very well know that both of these platforms its own sweet and bitter spots, yet we help you carve out the best technological solution.
We help you get an app, which turns out to be your original investment, by building a solution, which saves your time and money in the long, while offering a great user experience through an industry standard app performance.
You can reach us today at sales@dataeximit.com
Our Portfolio